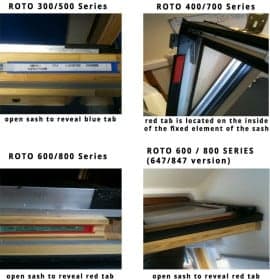 How to find your Roto window size code
When ordering skylight blinds to fit Roto windows you need to know your Roto window size code. This guide describes how you go about finding the code and what to do if you cannot find your Roto window size code.
Step 1: Finding the Roto window ID plate.
Start by opening the Roto window and looking along the edges of the window for a metal plate or sticker.
FIND PLASTIC TAB ON ONE OF THE WINDOW EDGES – AS SHOWN BELOW:
Step 2: Order your Blinds
As long as you can find the Roto size code you can go ahead and order blinds for your Roto windows. All our blinds come with quality thermal blackout fabric, solid metal fixings, child safety certification and 3 years warranty as standard. The skylight blinds are extremely easy to fit, check out our fitting instructions video.
Click here to view our Roto Skylight blinds range
Step 3: What to do if you cannot find your Roto window size code.
You may find that the Roto Identification plate/sticker is not on the window or the information on the ID plate is worn or faded. If this is the case you will need to find out the window size by measuring the visible glass size of the window inside the window frame in centimetres (cm).
Please use the table below to match your visible glass size to find the correct size code for you window:
| | | | | |
| --- | --- | --- | --- | --- |
| MANUFACTURER | SIZE CODE | ROTO SERIES NUMBERS IN THIS SIZE CODE | GLASS WIDTH (MM) | GLASS DROP (MM) |
| ROTO | 5/7 | 300/320/339/500/559/310/329/330/520/520/530/ | 384 | 544 |
| ROTO | 5/9 | 300/320/339/500/559/310/329/330/520/520/530/ | 384 | 824 |
| ROTO | 5/11 | 300/320/339/500/559/310/329/330/520/520/530/ | 384 | 1024 |
| ROTO | 6/9 | 300/320/339/500/559/310/329/330/520/520/530/ | 494 | 824 |
| ROTO | 6/11 | 300/320/339/500/559/310/329/330/520/520/530/ | 494 | 1024 |
| ROTO | 6/14 | 300/320/339/500/559/310/329/330/520/520/530/ | 494 | 1244 |
| ROTO | 7/7 | 300/320/339/500/559/310/329/330/520/520/530/ | 494 | 544 |
| ROTO | 7/9 | 300/320/339/500/559/310/329/330/520/520/530/ | 624 | 824 |
| ROTO | 7/11 | 300/320/339/500/559/310/329/330/520/520/530/ | 624 | 1024 |
| ROTO | 7/14 | 300/320/339/500/559/310/329/330/520/520/530/ | 624 | 1244 |
| ROTO | 7/16 | 300/320/339/500/559/310/329/330/520/520/530/ | 624 | 1444 |
| ROTO | 9/7 | 300/320/339/500/559/310/329/330/520/520/530/ | 784 | 544 |
| ROTO | 9/9 | 300/320/339/500/559/310/329/330/520/520/530/ | 784 | 824 |
| ROTO | 9/11 | 300/320/339/500/559/310/329/330/520/520/530/ | 784 | 1024 |
| ROTO | 9/14 | 300/320/339/500/559/310/329/330/520/520/530/ | 784 | 1244 |
| ROTO | 9/16 | 300/320/339/500/559/310/329/330/520/520/530/ | 784 | 1444 |
| ROTO | 11/7 | 300/320/339/500/559/310/329/330/520/520/530/ | 984 | 544 |
| ROTO | 11/9 | 300/320/339/500/559/310/329/330/520/520/530/ | 984 | 824 |
| ROTO | 11/11 | 300/320/339/500/559/310/329/330/520/520/530/ | 984 | 1024 |
| ROTO | 11/14 | 300/320/339/500/559/310/329/330/520/520/530/ | 984 | 1244 |
| ROTO | 13/7 | 300/320/339/500/559/310/329/330/520/520/530/ | 1184 | 544 |
| ROTO | 13/9 | 300/320/339/500/559/310/329/330/520/520/530/ | 1184 | 824 |
| ROTO | 13/14 | 300/320/339/500/559/310/329/330/520/520/530/ | 1184 | 1244 |
| ROTO | 5/7 | 400/435/700/735/R4/R7/439/738/739/739/R75/R78/R79/430/410/417/R7/R75/ | 380 | 620 |
| ROTO | 5/9 | 400/435/700/735/R4/R7/439/738/739/739/R75/R78/R79/430/410/417/R7/R75/ | 380 | 820 |
| ROTO | 5/11 | 400/435/700/735/R4/R7/439/738/739/739/R75/R78/R79/430///R7/R75/ | 380 | 1020 |
| ROTO | 6/9 | 400/435/700/735/R4/R7/439/738/739/739/R75/R78/R79/430/410/417/R7/R75/ | 490 | 820 |
| ROTO | 6/11 | 400/435/700/735/R4/R7/439/738/739/739/R75/R78/R79/430///R7/R75/ | 490 | 1020 |
| ROTO | 6/14 | 400/435/700/735/R4/R7/439/738/739/739/R75/R78/R79/430/410/417/R7/R75/ | 490 | 1240 |
| ROTO | 7/7 | 400/435/700/735/R4/R7/439/738/739/739/R75/R78/R79/430/410/417/R7/R75/ | 580 | 540 |
| ROTO | 7/9 | 400/435/700/735/R4/R7/439/738/739/739/R75/R78/R79/430/410/417/R7/R75/ | 580 | 820 |
| ROTO | 7/11 | 400/435/700/735/R4/R7/439/738/739/739/R75/R78/R79/430///R7/R75/ | 580 | 1020 |
| ROTO | 7/14 | 400/435/700/735/R4/R7/439/738/739/739/R75/R78/R79/430///R7/R75/ | 580 | 1240 |
| ROTO | 7/16 | 400/435/700/735/R4/R7/439/738/739/739/R75/R78/R79/430/410/417/R7/R75/ | 580 | 1440 |
| ROTO | 9/7 | 400/435/700/735/R4/R7/439/738/739/739/R75/R78/R79/430/410/417/R7/R75/ | 780 | 620 |
| ROTO | 9/9 | 400/435/700/735/R4/R7/439/738/739/739/R75/R78/R79/430/410/417/R7/R75/ | 780 | 820 |
| ROTO | 9/11 | 400/435/700/735/R4/R7/439/738/739/739/R75/R78/R79/430/410/417/R7/R75/ | 780 | 1020 |
| ROTO | 9/14 | 400/435/700/735/R4/R7/439/738/739/739/R75/R78/R79/430///R7/R75/ | 780 | 1240 |
| ROTO | 9/16 | 400/435/700/735/R4/R7/439/738/739/739/R75/R78/R79/430/410/417/R7/R75/ | 780 | 1440 |
| ROTO | 11/7 | 400/435/700/735/R4/R7/439/738/739/739/R75/R78/R79/430/410/417/R7/R75/ | 980 | 620 |
| ROTO | 11/9 | 400/435/700/735/R4/R7/439/738/739/739/R75/R78/R79/430/410/417/R7/R75/ | 980 | 820 |
| ROTO | 11/11 | 400/435/700/735/R4/R7/439/738/739/739/R75/R78/R79/430/410/417/R7/R75/ | 980 | 1020 |
| ROTO | 11/14 | 400/435/700/735/R4/R7/439/738/739/739/R75/R78/R79/430/410/417/R7/R75/ | 980 | 1240 |
| ROTO | 13/7 | 400/435/700/735/R4/R7/439/738/739/739/R75/R78/R79/430/410/417/R7/R75/ | 1180 | 620 |
| ROTO | 13/9 | 400/435/700/735/R4/R7/439/738/739/739/R75/R78/R79/430/410/417/R7/R75/ | 1180 | 820 |
| ROTO | 13/14 | 400/435/700/735/R4/R7/439/738/739/739/R75/R78/R79/430///R7/R75/ | 1180 | 1240 |
| ROTO | 5/7 | 600/647/800/847//649/849/617/619/619/610/620/627/629/840/844/845/846/ | 353 | 580 |
| ROTO | 5/9 | 600/647/800/847//649/849/617/619/619/610/620/627/629/840/844/845/846/ | 353 | 780 |
| ROTO | 5/11 | 600/647/800/847//649/849/617/619/619/610/620/627/629/840/844/845/846/ | 353 | 980 |
| ROTO | 6/9 | 600/647/800/847//649/849/617/619/619/610/620/627/629/840/844/845/846/ | 463 | 980 |
| ROTO | 6/11 | 600/647/800/847//649/849/617/619/619/610/620/627/629/840/844/845/846/ | 463 | 980 |
| ROTO | 6/14 | 600/647/800/847//649/849/617/619/619/610/620/627/629/840/844/845/846/ | 463 | 1200 |
| ROTO | 7/9 | 600/647/800/847//649/849/617/619/619/610/620/627/629/840/844/845/846/ | 553 | 780 |
| ROTO | 7/11 | 600/647/800/847//649/849/617/619/619/610/620/627/629/840/844/845/846/ | 553 | 980 |
| ROTO | 7/14 | 600/647/800/847//649/849/617/619/619/610/620/627/629/840/844/845/846/ | 553 | 1200 |
| ROTO | 7/16 | 600/647/800/847//649/849/617/619/619/610/620/627/629/840/844/845/846/ | 553 | 1400 |
| ROTO | 9/7 | 600/647/800/847//649/849/617/619/619/610/620/627/629/840/844/845/846/ | 753 | 580 |
| ROTO | 9/11 | 600/647/800/847//649/849/617/619/619/610/620/627/629/840/844/845/846/ | 753 | 980 |
| ROTO | 9/14 | 600/647/800/847//649/849/617/619/619/610/620/627/629/840/844/845/846/ | 753 | 1200 |
| ROTO | 9/16 | 600/647/800/847//649/849/617/619/619/610/620/627/629/840/844/845/846/ | 753 | 1400 |
| ROTO | 11/7 | 600/647/800/847//649/849/617/619/619/610/620/627/629/840/844/845/846/ | 953 | 580 |
| ROTO | 11/9 | 600/647/800/847//649/849/617/619/619/610/620/627/629/840/844/845/846/ | 953 | 780 |
| ROTO | 11/11 | 600/647/800/847//649/849/617/619/619/610/620/627/629/840/844/845/846/ | 953 | 980 |
| ROTO | 11/14 | 600/647/800/847//649/849/617/619/619/610/620/627/629/840/844/845/846/ | 953 | 1200 |
| ROTO | 13/7 | 600/647/800/847//649/849/617/619/619/610/620/627/629/840/844/845/846/ | 1153 | 580 |
| ROTO | 13/9 | 600/647/800/847//649/849/617/619/619/610/620/627/629/840/844/845/846/ | 1153 | 780 |
| ROTO | 13/14 | 600/647/800/847//649/849/617/619/619/610/620/627/629/840/844/845/846/ | 1153 | 1200 |
| ROTO | 5/7 | 610/619/629/840/620/617/627/600/800/800/ | 320 | 561 |
| ROTO | 5/9 | 610/619/629/840/620/617/627/600/800/800/ | 320 | 761 |
| ROTO | 5/11 | 610/619/629/840/620/617/627/600/800/800/ | 320 | 961 |
| ROTO | 6/9 | 610/619/629/840/620/617/627/600/800/800/ | 430 | 961 |
| ROTO | 6/11 | 610/619/629/840/620/617/627/600/800/800/ | 430 | 961 |
| ROTO | 6/14 | 610/619/629/840/620/617/627/600/800/800/ | 430 | 1161 |
| ROTO | 7/9 | 610/619/629/840/620/617/627/600/800/800/ | 520 | 761 |
| ROTO | 7/11 | 610/619/629/840/620/617/627/600/800/800/ | 520 | 961 |
| ROTO | 7/14 | 610/619/629/840/620/617/627/600/800/800/ | 520 | 1161 |
| ROTO | 7/16 | 610/619/629/840/620/617/627/600/800/800/ | 520 | 1361 |
| ROTO | 9/7 | 610/619/629/840/620/617/627/600/800/800/ | 720 | 561 |
| ROTO | 9/11 | 610/619/629/840/620/617/627/600/800/800/ | 720 | 961 |
| ROTO | 9/14 | 610/619/629/840/620/617/627/600/800/800/ | 720 | 1161 |
| ROTO | 9/16 | 610/619/629/840/620/617/627/600/800/800/ | 720 | 1361 |
| ROTO | 11/7 | 610/619/629/840/620/617/627/600/800/800/ | 920 | 561 |
| ROTO | 11/9 | 610/619/629/840/620/617/627/600/800/800/ | 920 | 761 |
| ROTO | 11/11 | 610/619/629/840/620/617/627/600/800/800/ | 920 | 961 |
| ROTO | 11/14 | 610/619/629/840/620/617/627/600/800/800/ | 920 | 1181 |
| ROTO | 13/7 | 610/619/629/840/620/617/627/600/800/800/ | 1120 | 561 |
| ROTO | 13/9 | 610/619/629/840/620/617/627/600/800/800/ | 1120 | 761 |
| ROTO | 13/14 | 610/619/629/840/620/617/627/600/800/800/ | 1120 | 1181 |
| ROTO | 5/8 | 410/417/410B/410C/417B/417C/ | 384 | 688 |
| ROTO | 5/11 | 410/417/410B/410C/417B/417C/ | 384 | 958 |
| ROTO | 6/8 | 410/417/410B/410C/417B/417C/ | 494 | 688 |
| ROTO | 6/11 | 410/417/410B/410C/417B/417C/ | 494 | 958 |
| ROTO | 7/11 | 410/417/410B/410C/417B/417C/ | 624 | 958 |
| ROTO | 7/14 | 410/417/410B/410C/417B/417C/ | 694 | 1288 |
| ROTO | 8/11 | 410/417/410B/410C/417B/417C/ | 784 | 958 |
| ROTO | 9/12 | 410/417/410B/410C/417B/417C/ | 784 | 1068 |
| ROTO | 9/14 | 410/417/410B/410C/417B/417C/ | 894 | 1288 |
| ROTO | 10/11 | 410/417/410B/410C/417B/417C/ | 894 | 958 |
| ROTO | 10/12 | 410/417/410B/410C/417B/417C/ | 894 | 1068 |
| ROTO | 10/14 | 410/417/410B/410C/417B/417C/ | 1184 | 1288 |
| ROTO | 13/14 | 410/417/410B/410C/417B/417C/ | 1184 | 1288 |
| ROTO | 5/7 | 847/647/R8/R85/R8/R85/R6/ | 328 | 568 |
| ROTO | 5/9 | 847/647/R8/R85/R8/R85/R6/ | 328 | 768 |
| ROTO | 5/11 | 847/647/R8/R85/R8/R85/R6/ | 328 | 968 |
| ROTO | 6/9 | 847/647/R8/R85/R8/R85/R6/ | 438 | 768 |
| ROTO | 6/11 | 847/647/R8/R85/R8/R85/R6/ | 438 | 968 |
| ROTO | 6/14 | 847/647/R8/R85/R8/R85/R6/ | 438 | 1188 |
| ROTO | 7/9 | 847/647/R8/R85/R8/R85/R6/ | 528 | 768 |
| ROTO | 7/11 | 847/647/R8/R85/R8/R85/R6/ | 528 | 968 |
| ROTO | 7/14 | 847/647/R8/R85/R8/R85/R6/ | 528 | 1188 |
| ROTO | 7/16 | 847/647/R8/R85/R8/R85/R6/ | 528 | 1388 |
| ROTO | 9/7 | 847/647/R8////R6/ | 728 | 568 |
| ROTO | 9/11 | 847/647/R8/R85/R8/R85/R6/ | 728 | 968 |
| ROTO | 9/14 | 847/647/R8/R85/R8/R85/R6/ | 728 | 1188 |
| ROTO | 9/16 | 847/647/R8/R85/R8/R85/R6/ | 728 | 1388 |
| ROTO | 11/7 | 847/647/R8////R6/ | 928 | 568 |
| ROTO | 11/9 | 847/647/R8////R6/ | 928 | 768 |
| ROTO | 11/11 | 847/647/R8/R85/R8/R85/R6/ | 928 | 968 |
| ROTO | 11/14 | 847/647/R8/R85/R8/R85/R6/ | 928 | 1188 |
| ROTO | 13/7 | 847/647/R8////R6/ | 1128 | 568 |
| ROTO | 13/9 | 847/647/R8/R85/R8/R85/R6/ | 1128 | 768 |
| ROTO | 13/14 | 847/647/R8/R85/R8/R85/R6/ | 1128 | 1188 |
| ROTO | 6/18 | R8WOOD/R85WOOD/R8PVC/R85PVC/ | 438 | 1588 |
| ROTO | 7/18 | R8WOOD/R85WOOD/R8PVC/R85PVC/ | 528 | 1588 |
| ROTO | 9/18 | R8WOOD/R85WOOD/R8PVC/R85PVC/ | 728 | 1588 |
| ROTO | 11/16 | R8WOOD/R85WOOD/R8PVC/R85PVC/ | 928 | 1388 |
| ROTO | 5/8 | 410AWOOD/ | 390 | 690 |
| ROTO | 5/11 | 410AWOOD/ | 390 | 960 |
| ROTO | 6/8 | 410AWOOD/ | 500 | 690 |
| ROTO | 6/11 | 410AWOOD/ | 500 | 960 |
| ROTO | 7/11 | 410AWOOD/ | 590 | 960 |
| ROTO | 7/14 | 410AWOOD/ | 590 | 1290 |
| ROTO | 8/11 | 410AWOOD/ | 700 | 960 |
| ROTO | 10/11 | 410AWOOD/ | 900 | 960 |
| ROTO | 10/14 | 410AWOOD/ | 900 | 1290 |
| ROTO | 13/14 | 410AWOOD/ | 1190 | 1290 |
Related posts